Church History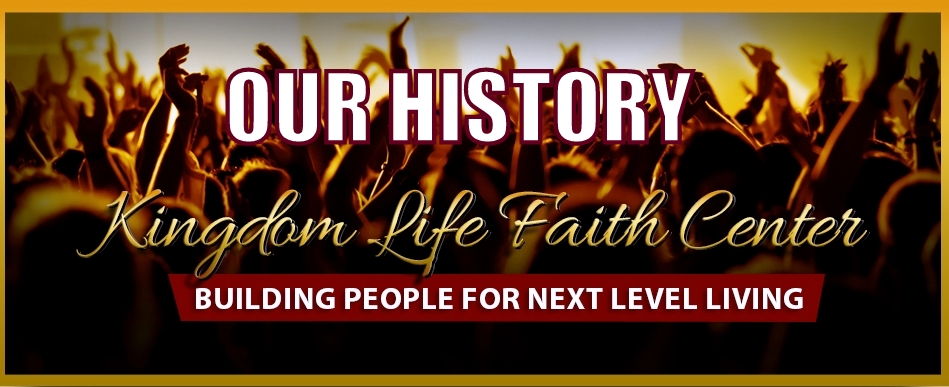 Kingdom Life Faith Center formally known as Christ Is the Answer Deliverance Center of Los Angeles California, was founded by the late Apostle Theodor Ted Byrd in 1967.
Christ Is the Answer held its first services in a building on Western Ave. in Los Angeles, CA. The name Christ Is the Answer was given to Apostle Ted Byrd through a word of prophecy in a church service in New York, God wrought many miracles, signs and wonders. Apostle Byrd's mission was to preach Healing and Deliverance to the people of God. Through Apostle Byrd many Christ Is the Answer Churches were planted throughout the United States, some are still in existence today. Apostle Byrd was the first Afro American Preacher to be on Television in the Los Angeles area, he was led to Christ by the late Bishop E. E. Cleveland and he was mentored by the late C. H. Manson, founder of the Church of God in Christ, through his ministry many souls were won to Christ.
It is believed that Apostle Byrd turned the Pastored of Christ Is the Answer Deliverance Center of Los Angeles, California over to Pastor Henry Lawrence, Sr. in 1973 it is believed he pastored the church for 4 years. Pastor Lawrence possessed a strong Prophetic and Soul Winners ministry, it is said that his Prophetic Ministry foretold of end time events that have come to pass in recent years. It is also believed that Bishop Eddie Jernagin, became the Pastor in 1977 after Pastor Lawrence was sent to Pastor in Houston, TX.
Bishop Eddie Jernagin, was born in Greenwood, Ms. and raised in Muncie, IN. He accepted the call of God and began preaching at age 18 in the church where he was a member. Bishop served for many years as a Traveling Evangelist preaching all over the country until he meets Bishop W. R. Portee, it was through this meeting that his ministry changed for the better. He often credits Bishop Portee for shaping his life and ministry. His Television and Radio broadcast has spanned across the United States and into other countries. Bishop Eddie Jernagin's mission as Pastor was to bring deliverance to the whole man through the Word of God.
On March 18, 2012 Bishop Jernagin turned the Pastored over to Pastor Curtis C. Perryman, Sr. Thus, beginning a new area for the church. Pastor Perryman was born March 26, 1969 and ironically was born again on the same day as his birth in 1999. He was called into ministry a month later and preached his first sermon in June of 1999. He is the Founder and President of Curtis Perryman Ministries (an outreach ministry geared to teaching the gospel of Jesus Christ through conferences, crusades, revivals and seminars) He is the founder of The Blessing Flow Conference (a conference whose mission is to Restore Relationships; Rekindle Dreams & Desires and help bring the Body of Christ into God's Supernatural Promotion.) Overseer Perryman is a member of VAMA (Vision Alliance Ministerial Association) where Dr. Fred L. Hodge, Jr. is Founder. Overseer Perryman is also a member of FMA (Faith Ministries Alliance) where Dr. William S. Winston is founder.
Under Pastor Perryman's leadership the ministry changed its name from Christ Is the Answer Deliverance Center of Los Angeles, California, to Kingdom Life Faith Center and has undergone a dynamic transformation where several new ministries were birth such as:
We care Ministry
Next Level Living Resource Center
Faith to Win Women's Ministry
Kingdom Life Health Fair
The Next Level Living Today Broadcast
The sole mission of Kingdom Life Faith Center is to Build People for Next Level Living by teaching them how to live the Kingdom Life.
For Service Times, Directions or Upcoming Events please click below